These Three Cheese Lasagna Roll Ups are a super easy family friendly that can be prepped and in the oven in about twenty minutes.  For a complete entertainment worthy meal combine with Italian Chopped Salad with Fresh Italian Dressing and Triple Cheese Garlic Bread.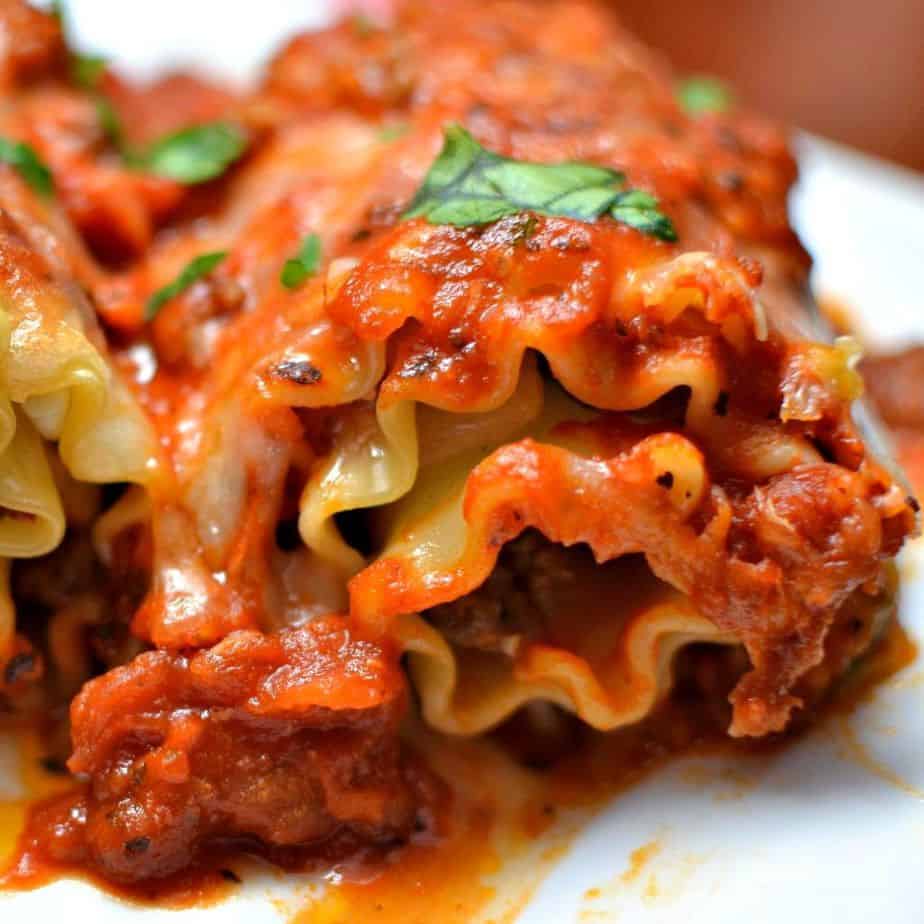 School starts this week and things are going to get very busy very quickly.  These Three Cheese Lasagna Roll Ups make for a quick and easy weeknight meal.  You can prepare the entire dish ahead of time and throw it in the oven thirty minutes before devouring it!   It is family friendly yet elegant and quick.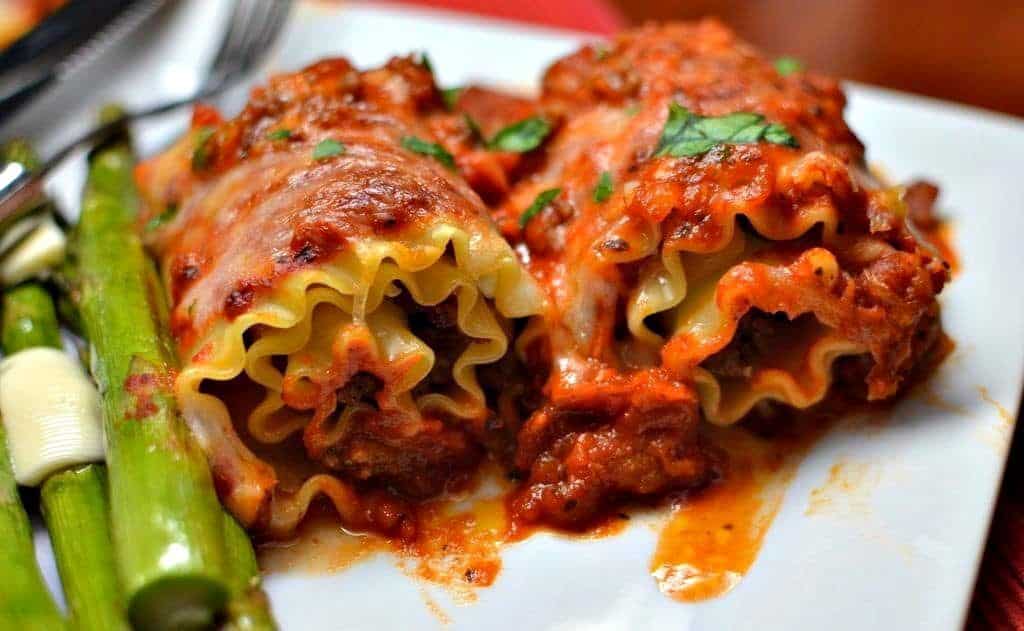 How do you make Three Cheese Lasagna Roll Ups?
First cook the lasagna noodles according to package instructions and drain well.  Now brown the Italian Sausage adding the onions about halfway through the browning process and the minced garlic during the last minute of cooking.
Next lay the lasagna noodles out in front of you and spread a thin layer of the the sausage mixture over the noodles dividing as evenly as possible. Sprinkle half of the three shredded cheeses over the sausage mixture and slowly roll the noodle up.   Place the rolled up lasagna noodles seam side down in a 9×11 inch baking dish that has been spread with a small amount of marinara to prevent the noodles from sticking.  Top with more marinara and the remaining cheese.
Bake for about 30 minutes or until lightly browned on the top.  Sprinkle with fresh parsley and serve promptly.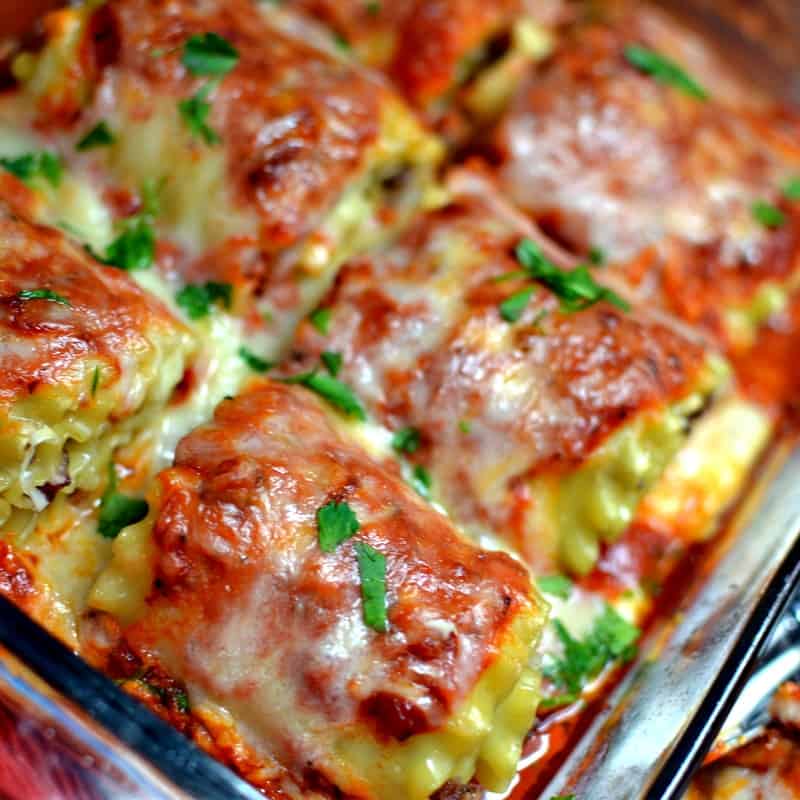 Helpful tips for making Three Cheese Lasagna Roll Ups
Purchase and cook the lasagna noodles that must be boiled.  You need the noodles pliable for rolling.
Use good quality fresh ground Italian sausage.  It really makes a difference.
Add the minced garlic during the last 30-60 seconds of browning.  Garlic can burn easily in a skillet and once it does it tastes bitter.
Spread a thin layer of marinara in the bottom of your baking dish to prevent the noodles from sticking.
Provel cheese is a blend of cheddar, Swiss and provolone.  It is available in some parts of the midwest.  If it is not available substitute with shredded provolone.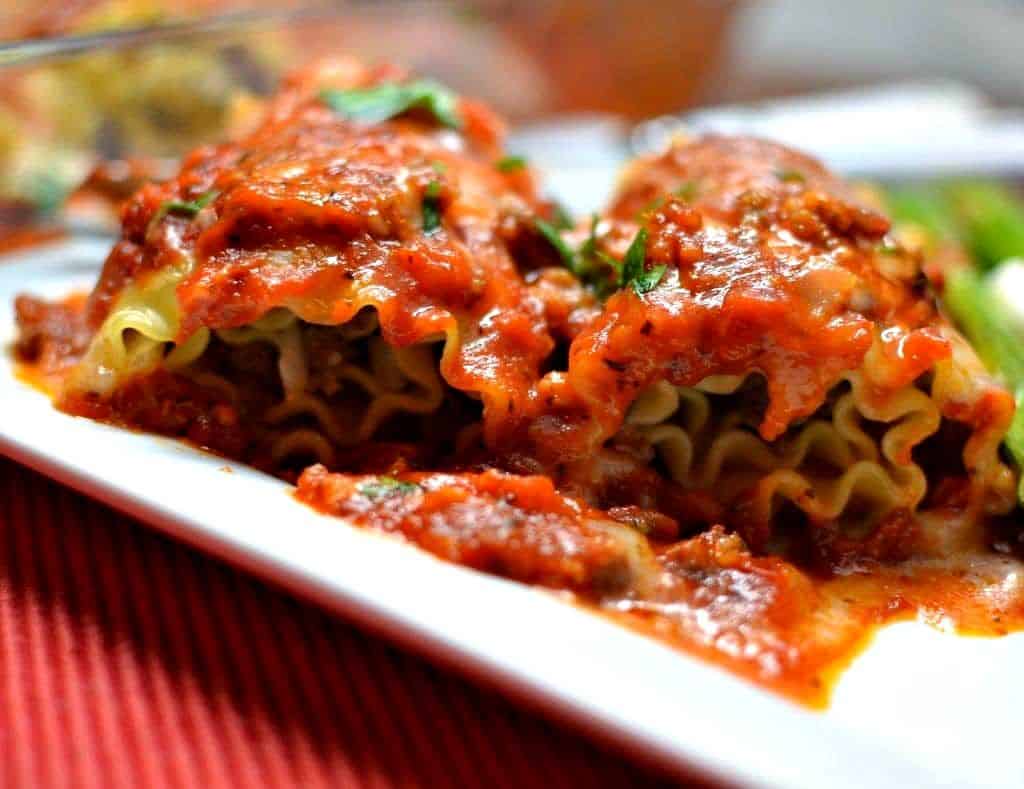 Well what are you waiting for?  Put the ingredients on your shopping list today and make your family an awesome meal! Serve this up with a fresh veggie like asparagus and a glass of Merlot and life is really good!
Other pasta recipes you will love!
This post was originally published January 26, 2016 and was republished August 12, 2019 with new content.
Print
Triple Cheese Lasagna Roll Ups with Sausage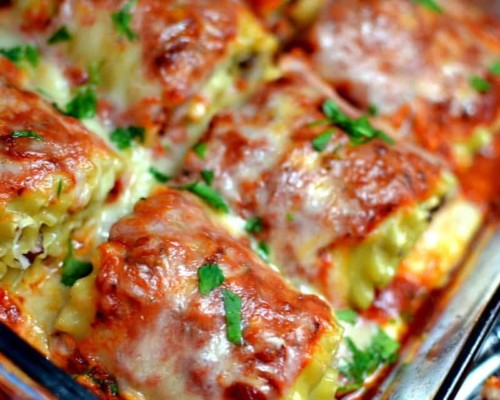 Lasagna noodles are rolled with Italian Sausage, onions, garlic and three delectable cheeses to make for a super quick and easy family friendly meal.
Author:
Prep Time: 20
Cook Time: 30
Total Time: 50 minutes
Yield: 4 servings 1x
Category: pasta
Method: bake
Cuisine: Italian
8 lasagna noodles
3/4 lb fresh Italian sausage
1/2 large onion finely chopped
2 cloves garlic minced
1 cup mozzarella shredded
1 cup provel ropes or provolone shredded
1/2 cup fresh grated Parmesan
2 1/2 cups marinara sauce
2 tablespoons fresh chopped parsley
Instructions
Cook lasagna noodles according to box directions.
Brown sausage in large skillet over medium heat. Add onion about halfway through the browning process; cooking approximately 5 minutes. Add garlic and cook 30-60 seconds; stirring constantly.
Preheat oven to 350 degrees.
Lay noodles out on large prep area. Divide sausage mixture over the noodles; spreading evenly. Now spread 1/2 of each type of shredded cheese over the noodles. Roll the noodles up and place seam side down in casserole coated with a thin layer of marinara. Top with remaining cheese and marinara.
Bake for 30 minutes or until cheese is light browned. Sprinkle with parsley.
Keywords: meat lasagna roll ups, easy lasagna roll ups, cheese lasagna roll ups, pasta roll ups, pasta, lasagna roll ups recipe
https://www.smalltownwoman.com/wp-content/uploads/2019/05/Beth-1.pdf