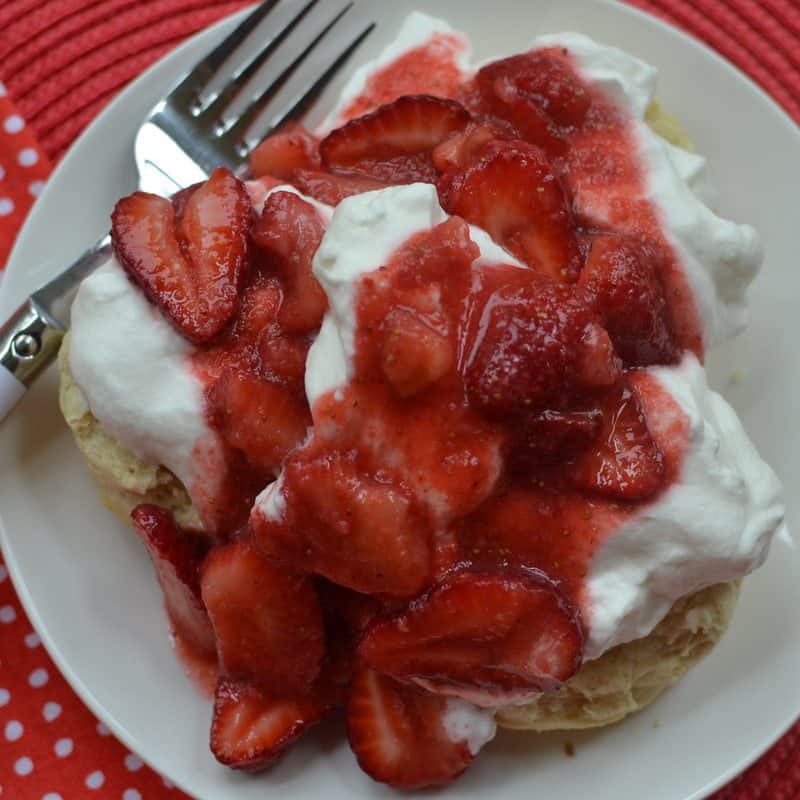 It is almost strawberry season here. We have strawberries available to us year round here but I think they get a little sweeter this time of the year. Besides being a delectable fruit strawberries contain antioxidants, vitamins, minerals and fiber that are essential to good health. One cup of fresh strawberries contains 160% of the recommended daily intake of vitamin C with only 50 calories. There are over 600 varieties of strawberries and they rank among the top ten fruits and vegetables for antioxidants.
My Easy Homemade Biscuit Strawberry Shortcake is sure to please with plenty of fresh berry taste. It is lightly sweetened for those of us who enjoy a scrumptious treat every now and then but don't want all that added sugar. This delectable recipe was inspired by my late sweet Mother In Law Betty. Betty grew up in the depression era with eight brothers and sisters. Her parents quickly learned how to make a dollar spread. She took those lessons of frugality into her own family. They would grow strawberries in the garden in the summer and for special treats she would slice them, sprinkle with sugar and serve over warm biscuits.

MY LATEST VIDEOS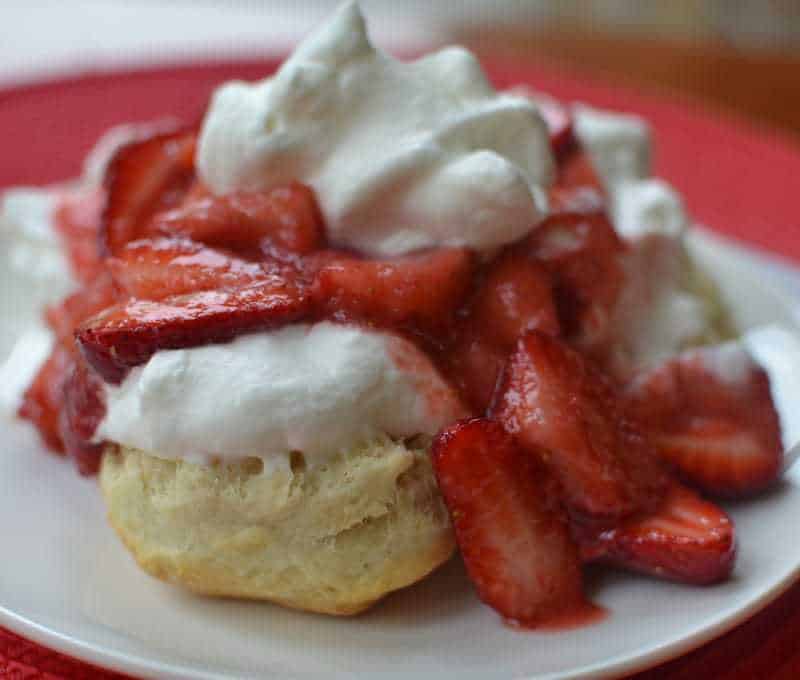 So for all you strawberry lovers and lovers of all things natural there is nothing in here but honest to goodness gifts from God and the earth. There is nothing artificial about this Easy Homemade Biscuit Strawberry Shortcake. That being said they are scrumptious and so flavor packed. My mouth is watering again just thinking about them. Are you always in a hurry? Bake the biscuits a day in advance and store in a Ziploc storage bag or airtight container.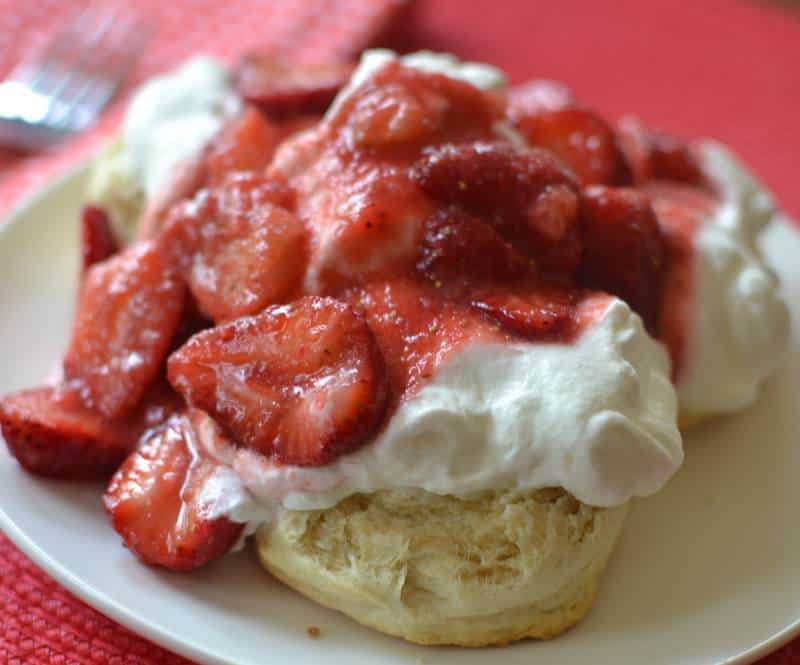 You are going to love my easy Easy Homemade Biscuit Strawberry Shortcake! You just can't go wrong when it comes to those beautiful sweet juicy berries, fresh homemade biscuits and fresh whipped cream.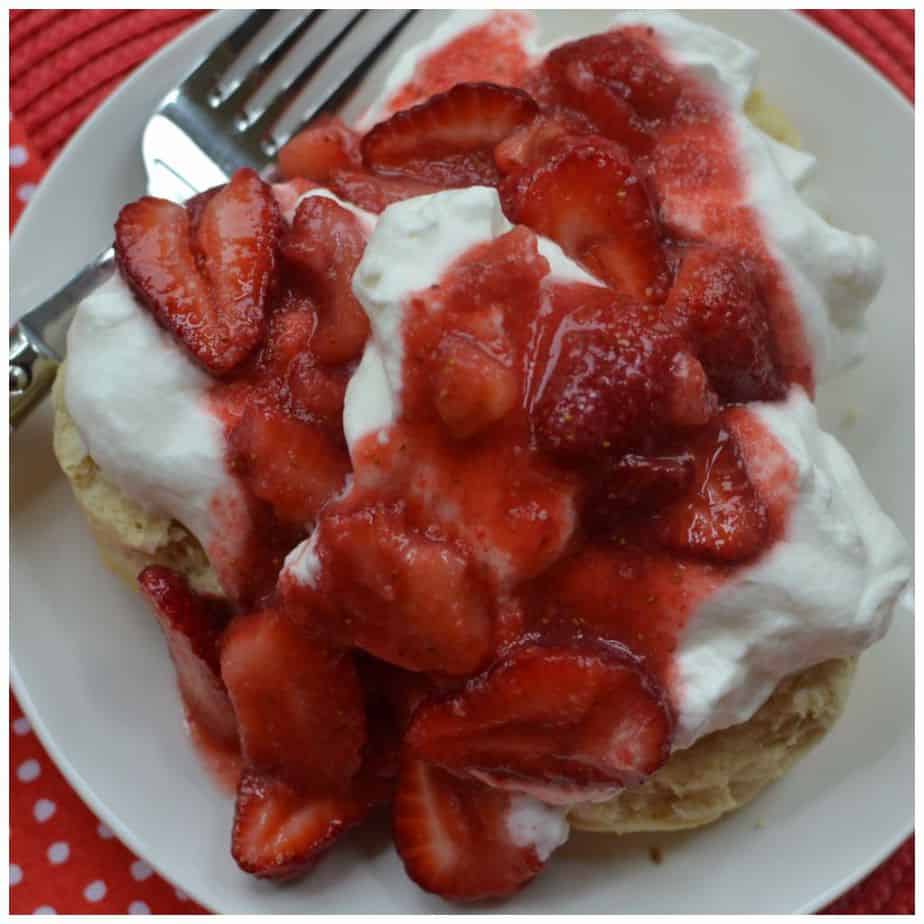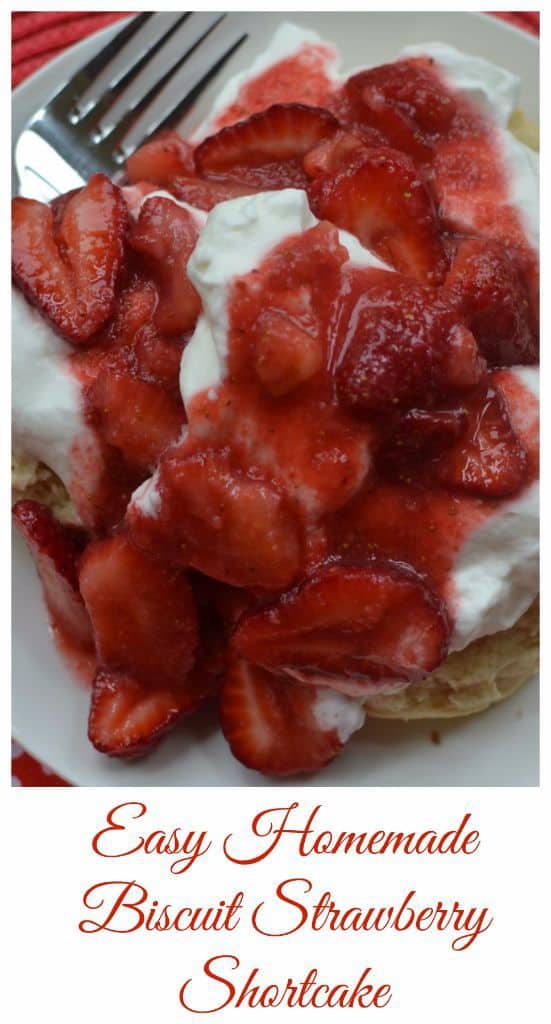 Easy Homemade Biscuit Strawberry Shortcake
Ingredients
2 lbs strawberries hulled and sliced
1/4 -1/2 cup sugar (depending on taste)
2 cups all-purpose flour.
1 1/2 tablespoons sugar
2 tablespoons baking powder.
3/4 teaspoon salt.
6 tablespoons unsalted butter (well chilled)
1 cup milk, (more or less if needed)
1 cup whipping cream
2 tablespoons powdered sugar
Instructions
In medium sized bowl combine strawberries and sugar. Let sit for 1-3 hours. The sugar brings out the natural juices in the strawberries.
In another medium bowl sift together flour, sugar, baking powder and salt. Add contents to a food processor and pulse in butter one tablespoon at a time until it starts to get crumbly. You can also cut in butter with a pastry knife. Return back to bowl and add milk slowly until rough ball forms. Pat out dough onto lightly floured surface to about 1/2 inch thickness. Cover with towel and allow to rest for 20 minutes. Cut with standard biscuit cutter or round drinking glass. Bake at 425 degrees for 12 minutes or until lightly browned.
Chill bowl and beaters for 20-25 minutes. Add whipped cream and powdered sugar and beat until stiff peaks form. Do not over beat. This can take from 1 to several minutes.
Using and old style potato masher mash half of the strawberries. Split biscuits, top with strawberries and whipped cream.
Notes
This recipes makes about 8 thick biscuits and serves about 8 people depending upon how hungry your crew is.
Other recipes you will love!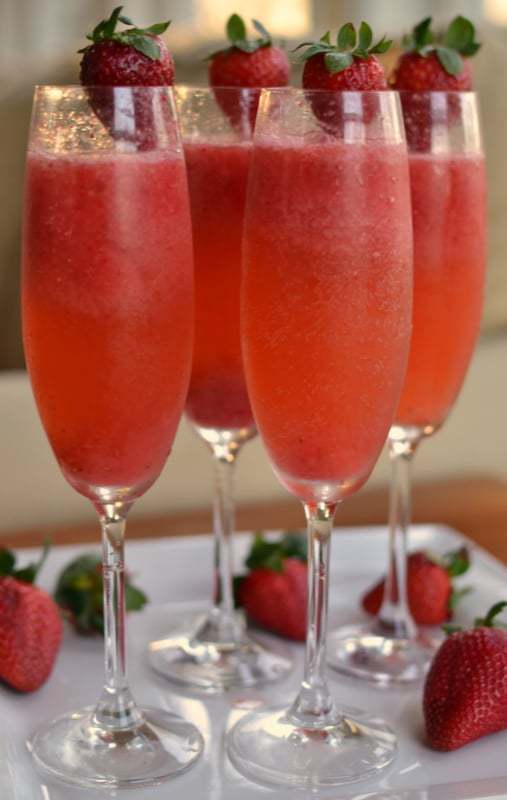 Easy Frosty Strawberry Mimosas