These Grilled Meatloaf Sandwiches are delicious slices of meatloaf with glaze between two slices of buttery toast and plenty of melty cheese. Just think of it as a meatloaf grilled cheese sandwich with amazing flavor and texture. They have been a favorite of ours for as long as I can remember. Sometimes I think we make meatloaf just for the sandwiches. Don't skip the Chipotle ketchup, as it complements the sandwich so well.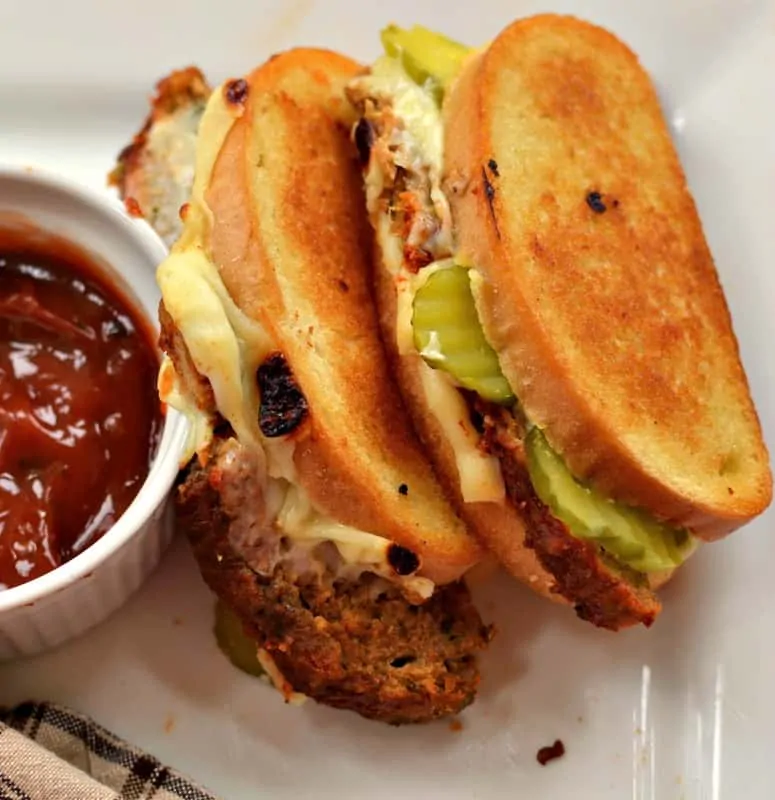 These Grilled Meatloaf Sandwiches take leftovers to a whole new level.  Now add my chipotle ketchup, and you have yourself an exceptionally tasty treat.  I love to serve them with Beer Battered Onion Rings with Dipping Sauce and Grandma's Creamy Dill Pickle Potato Salad. You can use any kind of meatloaf made from beef, turkey, pork, vegetarian, or a combination.  So easy to do with your favorite meatloaf recipe leftovers.  You will wonder how you ever lived without this!!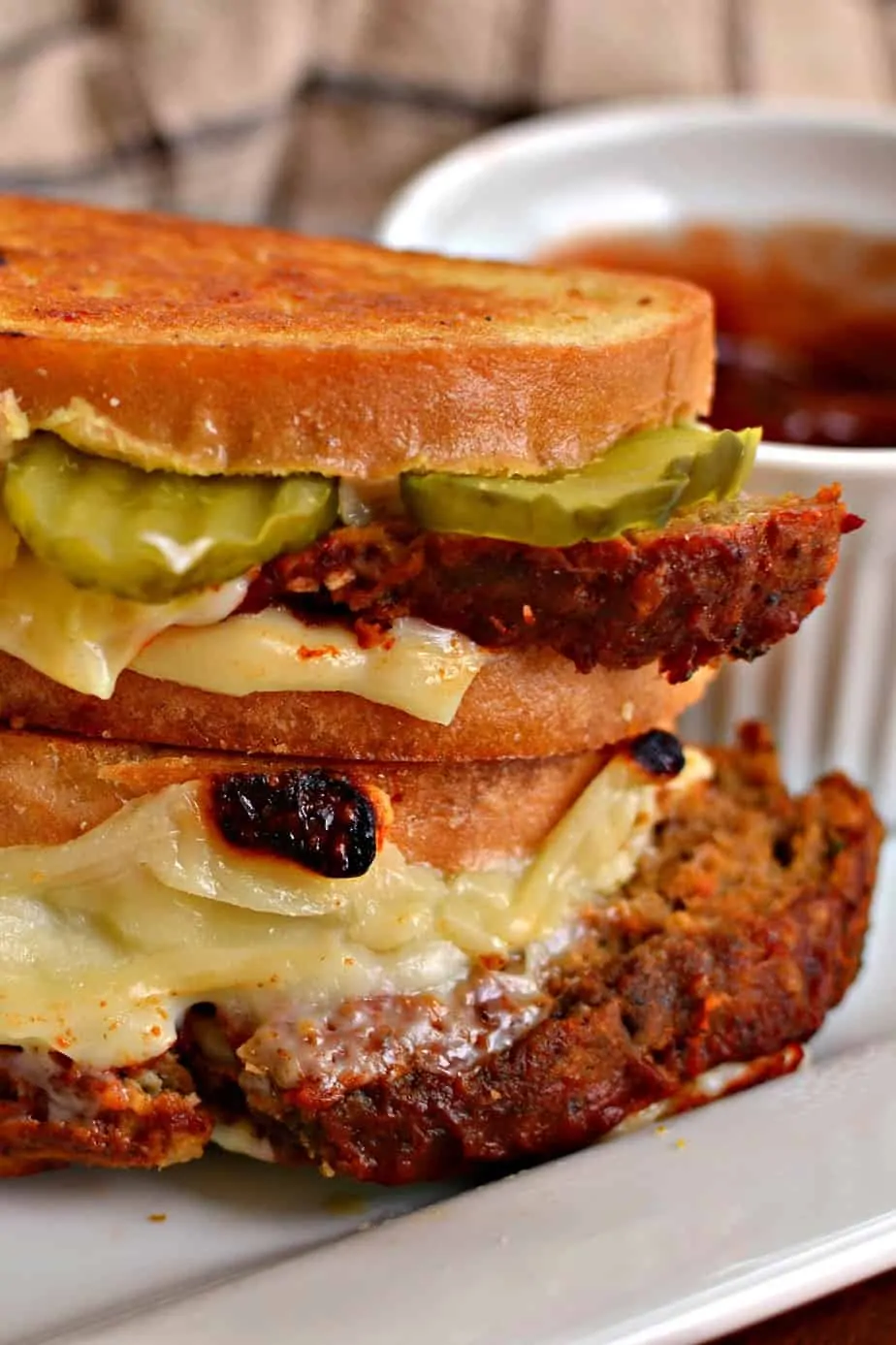 How do you make Grilled Meatloaf Sandwiches?
Start by mixing together the ketchup, chopped chipotle chile, adobo sauce, and balsamic vinegar together. Set that aside for just a few minutes while you make the meatloaf sandwiches.
Next layer a piece of cheese on a slice of bread.  Then slice your meatloaf into pieces that will fit on your bread.  I usually slice mine about 1/3 inch thick.  Next, layer the slice of meatloaf on top of the cheese.  Now follow it up with another slice of cheese and another piece of bread.
Now heat a large pan over medium heat.  Butter one side of the bread and flip that side down onto the skillet.  Butter the top slices of bread and cover the skillet loosely with aluminum foil.  Once the sandwiches are golden brown on the bottom, flip and brown on the other side.  Serve warm with Chipotle Ketchup.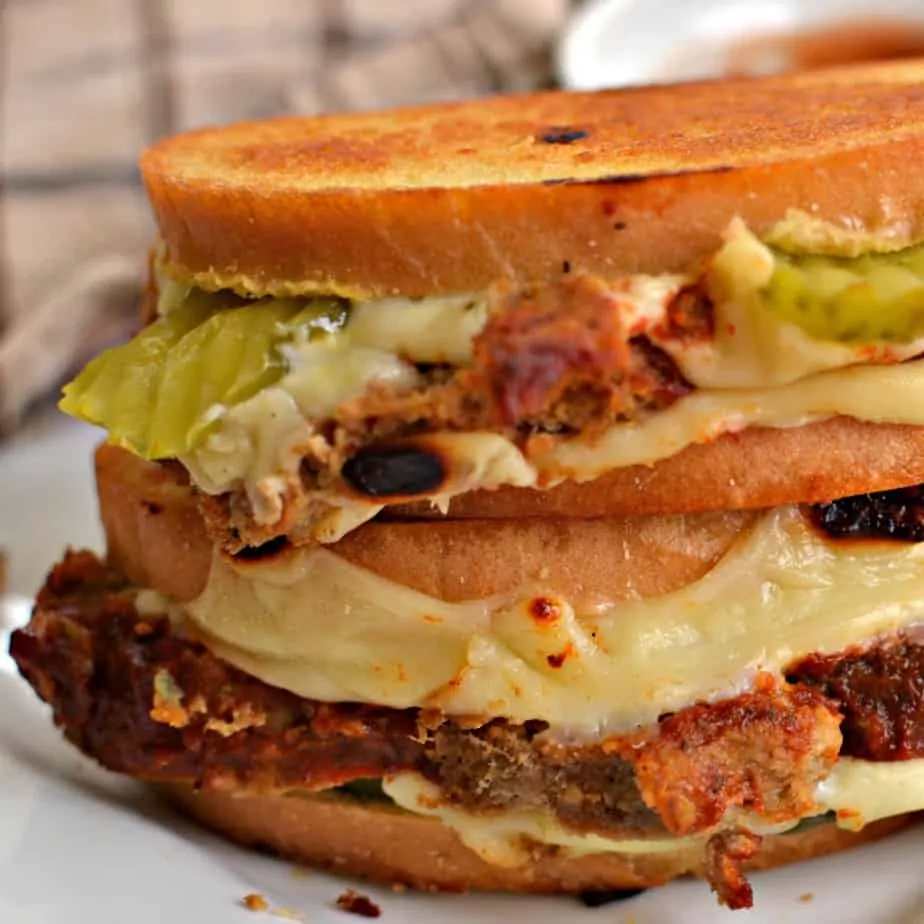 What are chipotle peppers?
Chipotle peppers are jalapeno peppers that have been aged, dried, and smoked.  They are earthy, robust, and smokey, yet still incredibly spicy.  You can find them canned with adobo sauce in the Mexican food section of most local grocery stores. Adobo sauce is a slightly sweet, tangy, rich reddish brown sauce made with ground ancho and guajillo chiles.
The combination of the two is a taste sensation. One chopped chipotle pepper with a little bit of the adobo sauce can take your Mexican and southwestern recipes over the top. Store the remaining chipotle peppers in adobo sauce in an airtight container in the refrigerator for up to one month.
Optional Toppings
Pickles
Lettuce
Tomatoes
Mustard
Mayo
Red onions
Onion straws
Bacon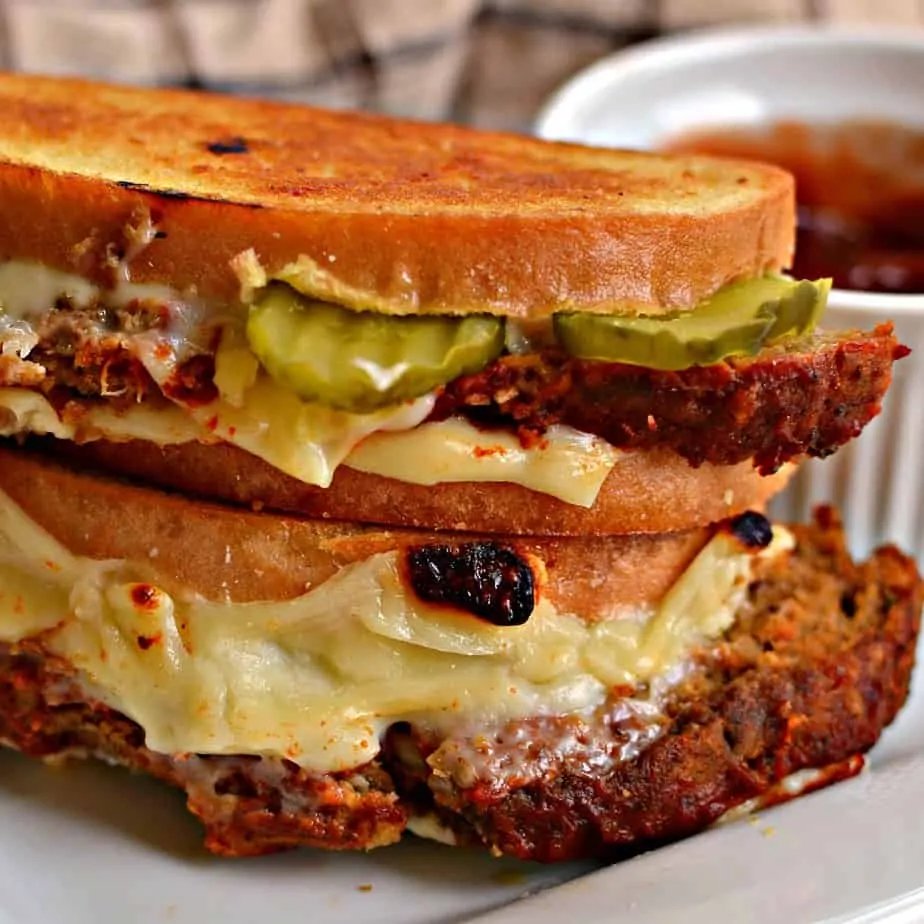 More sandwiches to try!
Print
Grilled Meatloaf Sandwich
An easy, family-friendly recipe that comes together in a matter of minutes.  These Grilled Meatloaf sandwiches can be adapted to your family's taste by using your favorite cheese and adjusting the amount of chopped chipotle pepper and adobo sauce added to the ketchup.  They flash freeze well, and reheat in the microwave or oven.
Author:
Prep Time: 5 minutes
Cook Time: 7 minutes
Total Time: 12 minutes
Yield: 2 sandwiches
Category: main meal beef
Method: stove top
Cuisine: American
1/2 cup ketchup
1–2 teaspoons chopped chipotle chile from canned chipotles (see notes)
1 tablespoon adobo sauce from can (see notes)
1 teaspoon balsamic vinegar
kosher salt and fresh ground black pepper
4 slices leftover meatloaf 1/3 inch thick
8 slices Italian bread or white bread
4 slices white American cheese
4 slices baby Swiss
3 tablespoons butter
Pickles (optional)
Instructions
In a small bowl, mix ketchup, chopped chipotle chile, adobo sauce, and balsamic vinegar.
Layer American Cheese, meatloaf, Swiss, and pickles on bread. Top with bread slice creating four sandwiches. Butter tops and bottoms of the sandwiches.
Brown in a skillet over medium-low heat. Cover with foil while cooking so the cheese melts properly and the sandwich warms.
Serve with chipotle ketchup.
Notes
Chipotle chiles (also known as chipotle peppers) can be found in the Mexican food section of your local grocery store.
 Adjust the number of chipotle chiles and adobo sauce to your taste.
Keywords: best grilled meatloaf sandwich, grilled cheese meatloaf sandwich, meatloaf sandwiches, leftover meatloaf sandwich, best meatloaf sandwich
On the hunt for more delicious recipes? Follow Small Town Woman on Facebook, Pinterest, and Instagram.
https://www.smalltownwoman.com/wp-content/uploads/2019/05/Beth-1.pdf