This Hush Puppies Recipe is the best easy southern side with crispy outer edges and lightly sweetened soft tender centers.  They are by far the best I have ever made or tried.  I love to serve them with Red Beans and Rice, Oven Roasted Corn and Fresh Peach Tea.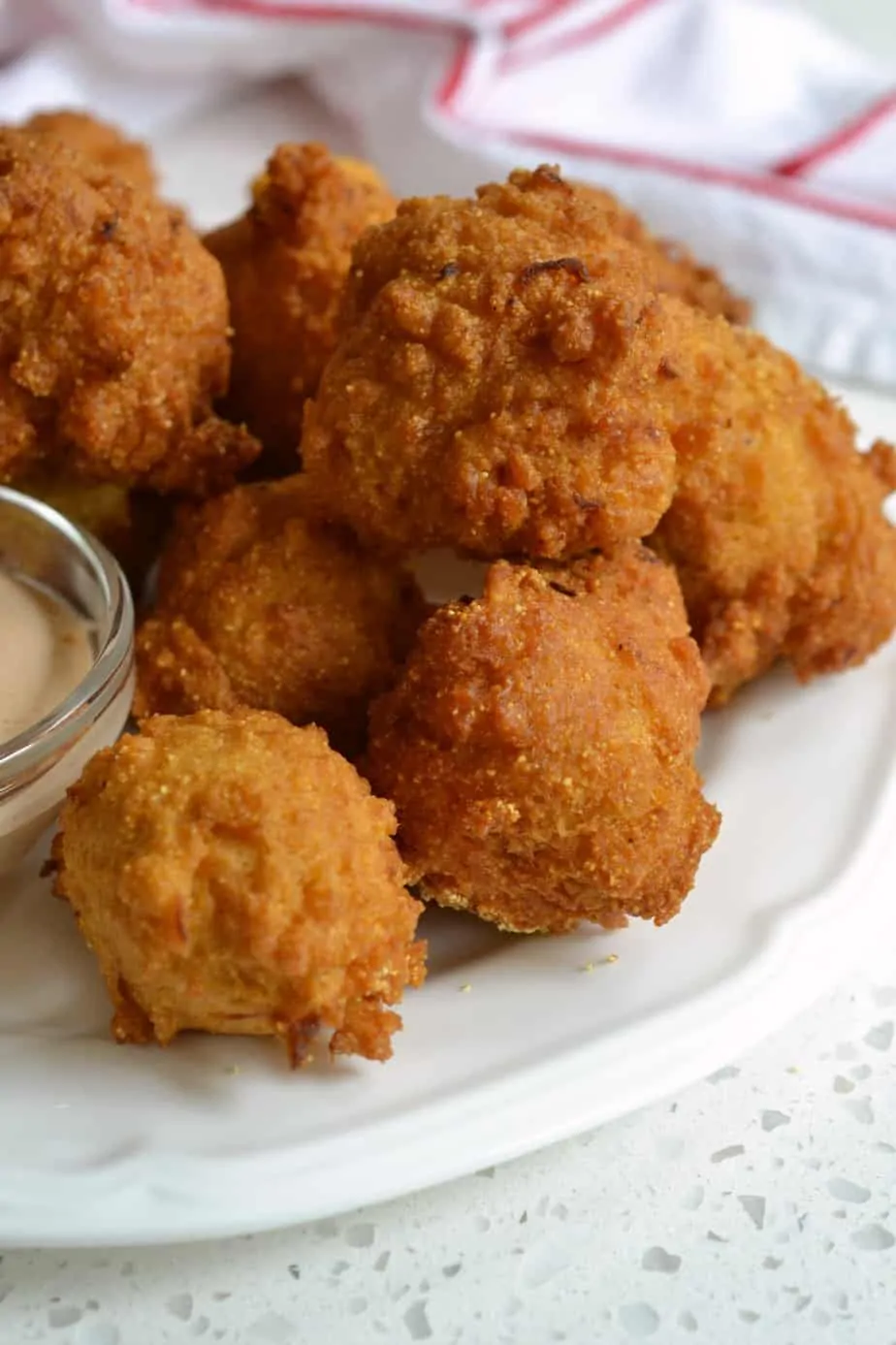 These delectable fried cornmeal hush puppies are such a treat.  Maybe it has been quite some time since you have had any.  Maybe it feels like forever.  They really are so simple to mix together and fry up.  I like to fry mine in my deep fryer but you can also use a heavy stock pot or dutch oven.  They are delicious by themselves or with Southern Comeback Sauce.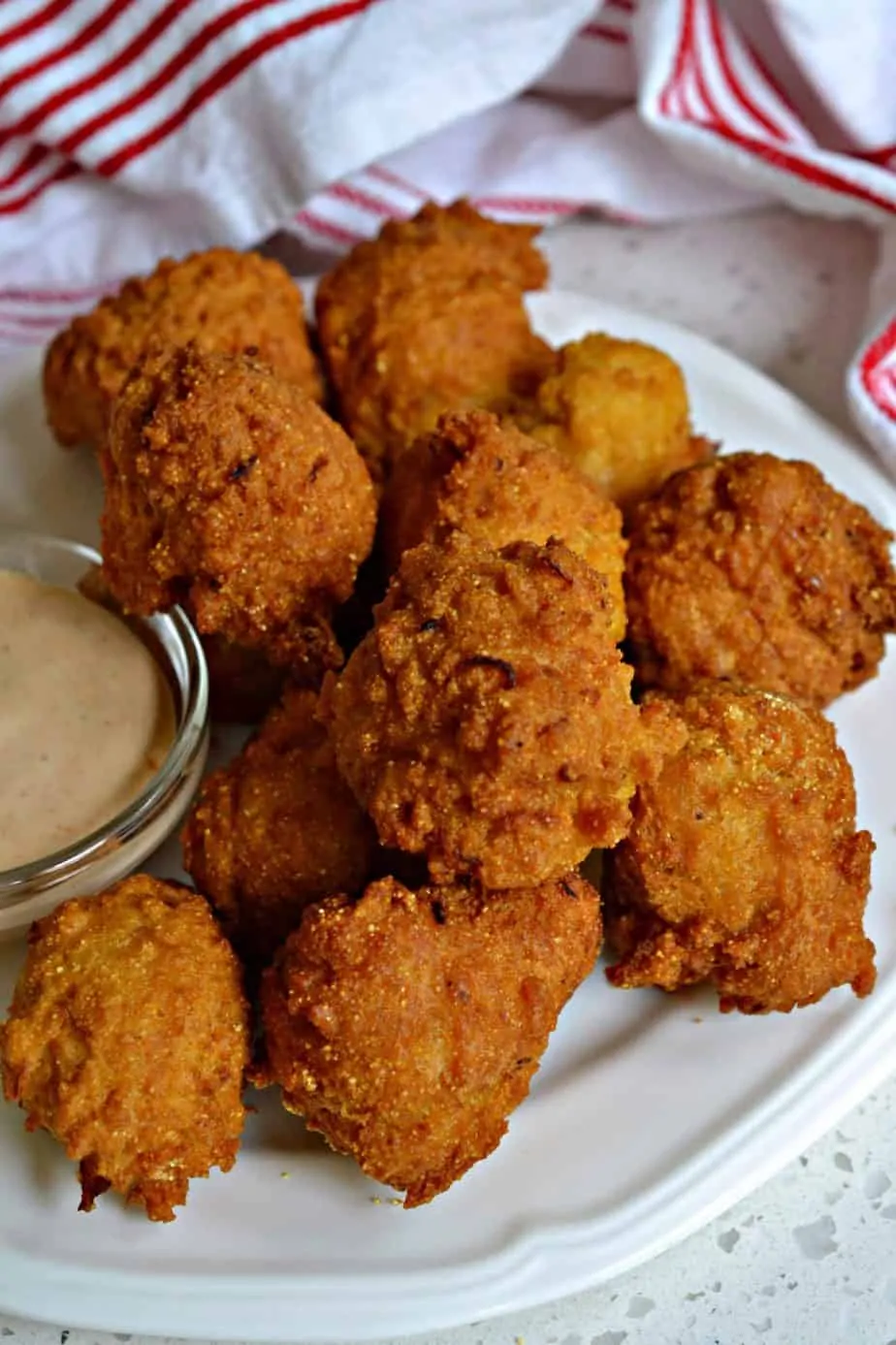 How do make Hush Puppies?
Start by whisking the cornmeal, flour, sugar, baking soda, baking powder, salt and Cajun seasoning together.  In another bowl or large measuring cup add your milk and vinegar to make buttermilk.  Let that sit for about five minutes.  Now whisk in the egg, vegetable oil and grated onion.  Then stir the wet ingredients into the dry and mix just until incorporated.
Heat the oil to 365 degrees and drop the dough by rounded tablespoons into the hot oil working in small batches so you don't crowd the fryer.  Cook for 3-5 minutes or until they are golden brown and cooked through.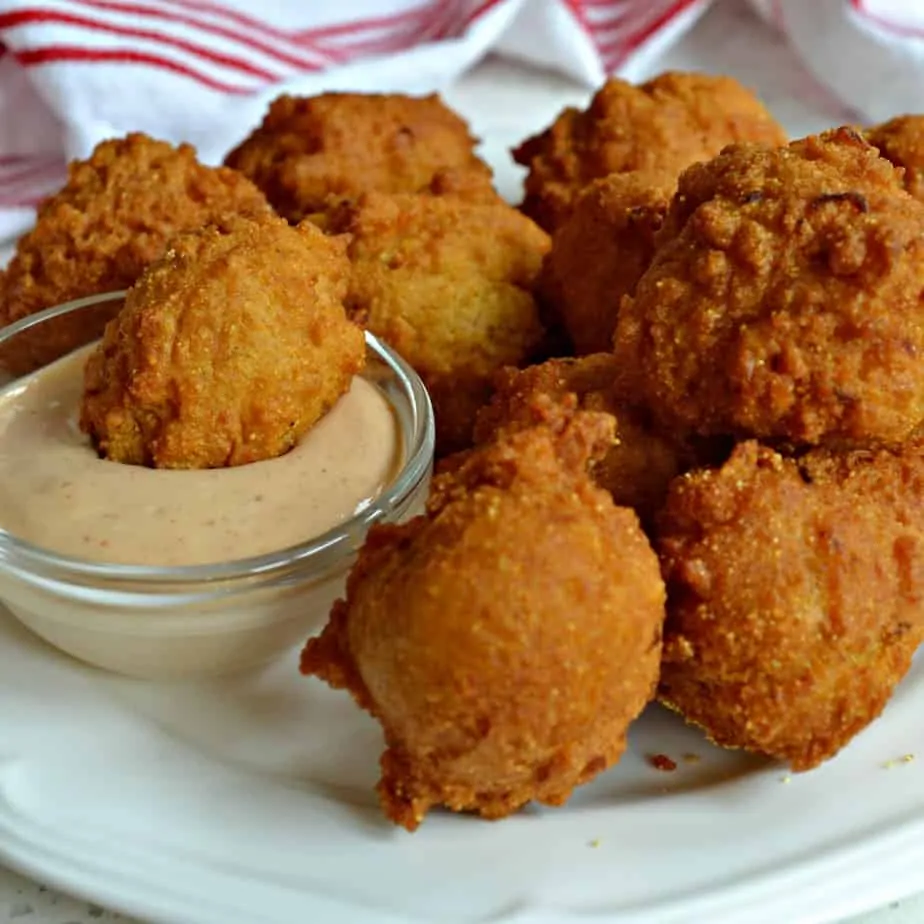 Helpful tips for making Hush Puppies
Both white and yellow cornmeal are good for making hush puppies.  White cornmeal is slightly sweeter.
If you like yours extra sweet add a little more sugar.
Bring your egg and milk to room temperature.
Mix the ingredients just until incorporated and let the batter sit while you heat the oil.
Try to maintain a constant oil temperature by using a deep fryer or heavy pot with a thermometer.
Drain them on paper towels after frying.
Use an oil with a high point like vegetable oil, canola oil or peanut oil.
To drop the hushpuppies in the fryer use two tablespoons.  One to scoop up a rounded mound of dough and the other one to gently push it off with.  However do not worry if all of your hush puppies are not perfectly round as they will still taste equally delicious.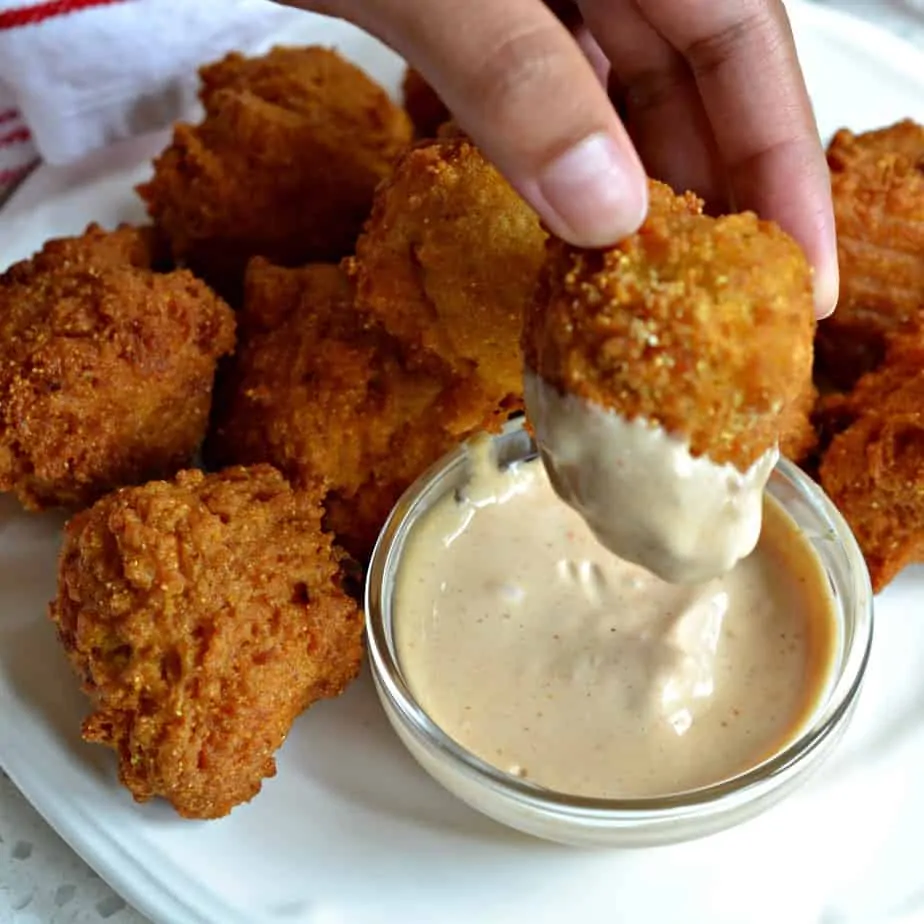 Fun taste variations for hush puppies
Jalapeno and cheddar – add 1 tablespoon finely minced jalapeno and 1/2 cup finely shredded cheddar cheese
Corn and scallion – add 1/2 cup frozen corn (thawed) and 2 scallions minced
Gouda and chive – 1/2 cup finely grated Gouda and 2 tablespoons finely chopped chives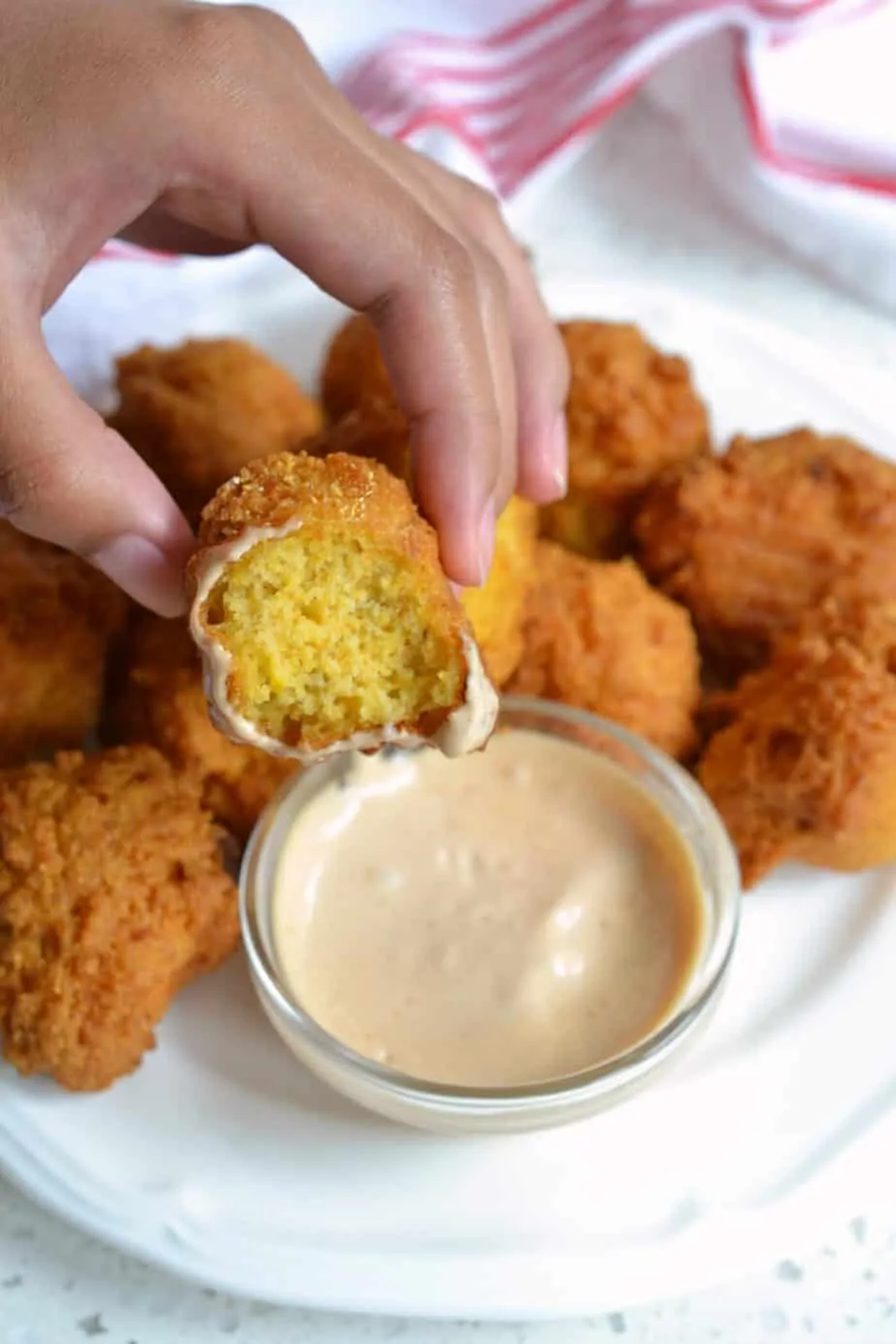 Other Southern recipes you will love!!
Print
Hush Puppies Recipe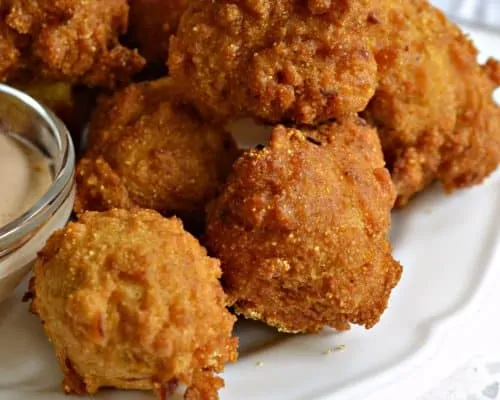 These southern Hush Puppies are crispy on the outside and soft and tender in the center.  They are easy to prepare and quick to come together.  They can be mixed and ready for the fryer in less than ten minutes.
Author:
Prep Time: 10 minutes
Cook Time: 5 minutes
Total Time: 15 minutes
Yield: 20 1x
Category: side
Method: deep fry
Cuisine: Southern
Scale
Ingredients
1 cup cornmeal (see notes)
1 cup all purpose flour
1–2 tablespoons sugar (see notes)
1/2 teaspoon baking soda
1/2 teaspoon baking powder
1/4 teaspoon Cajun or Creole seasoning
1/4 teaspoon sea salt
1/2 cup milk
1/2 tablespoon white vinegar
2 tablespoons vegetable oil
1 egg
3 tablespoons grated onion
Oil for frying (canola, vegetable or peanut)
Instructions
Whisk together cornmeal, flour, sugar, baking soda, baking powder, Cajun seasoning and salt.
In a separate medium bowl add your milk and vinegar; let sit 5 minutes.  Whisk in vegetable oil, egg and onion.  Add wet ingredients to dry ingredients; mix just until incorporated.
Heat oil to 365 degrees.  Using two small spoons; scoop a rounded spoonful on to one spoon and gently push it off with the second spoon.  Fry for 3-5 minutes or until golden brown.  Drain on paper towels.  Serve promptly.
Notes
Both white and yellow cornmeal are good for making hush puppies.  White cornmeal is slightly sweeter.
Add the full 2 tablespoons of sugar if you like your hush puppies fairly sweet.
Keywords: best hush puppy recipe, easy hush puppy recipe, homemade hush puppies recipe
https://www.smalltownwoman.com/wp-content/uploads/2019/05/Beth-1.pdf