London Broil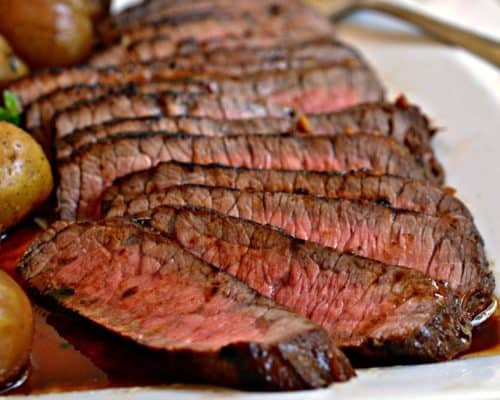 This less expensive cut of beef is marinated overnight then seared in a skillet on the stove top producing a flavorful tender steak. Be sure to read my helpful recipe tips for a delicious outcome.
Scale
Ingredients
2

lbs London Broil, sirloin or flank steak

2

cloves garlic minced

¼ cup

balsamic vinegar

¼ cup

Worcestershire sauce

2 tablespoons

low sodium soy sauce

2 tablespoons

Dijon mustard

2 tablespoons

olive oil

2 tablespoons

brown sugar

¼ teaspoon

fresh ground black pepper

2 teaspoons

canola oil
Pound the steak on both sides with the ridged side of a meat mallet.
In a large zipper bag mix garlic, balsamic vinegar,

Worcestershire sauce, soy sauce, Dijon mustard, olive oil, brown sugar and fresh ground black pepper.  Add the steak; refrigerate for 12-24 hours turning several times. 

Remove steak from the bag; discarding marinade. Thoroughly dry with paper towels. Heat the canola oil in a large skillet over medium high heat. Add the steak and place a heavy skillet bottom down on it to weigh it down and sear it.  Cook about 6-7 minutes.  Flip and sear the other side for about 5 minutes; placing the skillet on it.
Remove to cutting board.  Cover with a loose aluminum tent; let rest for 10 minutes. Using sharp knife slice thinly against the grain.  Serve promptly.
Keywords: london broil marinade, london broil steak, how to cook london broil