Bring the fair home with these personally customizable delectable walking tacos. They are perfect for parties, game day, movie night, and pool parties. Set up a taco bar and let everyone choose their type of chips and spoon in their favorite taco toppings leaving you free to mingle with your guests. Kids just love this easy walking taco recipe.
If your family is anything like mine than fair food is a hot commodity. Food can be so darn nostalgic. It can really take you back to a different place and time. These tacos, funnel cakes, corn dogs, and hush puppies are just a few of our favorites.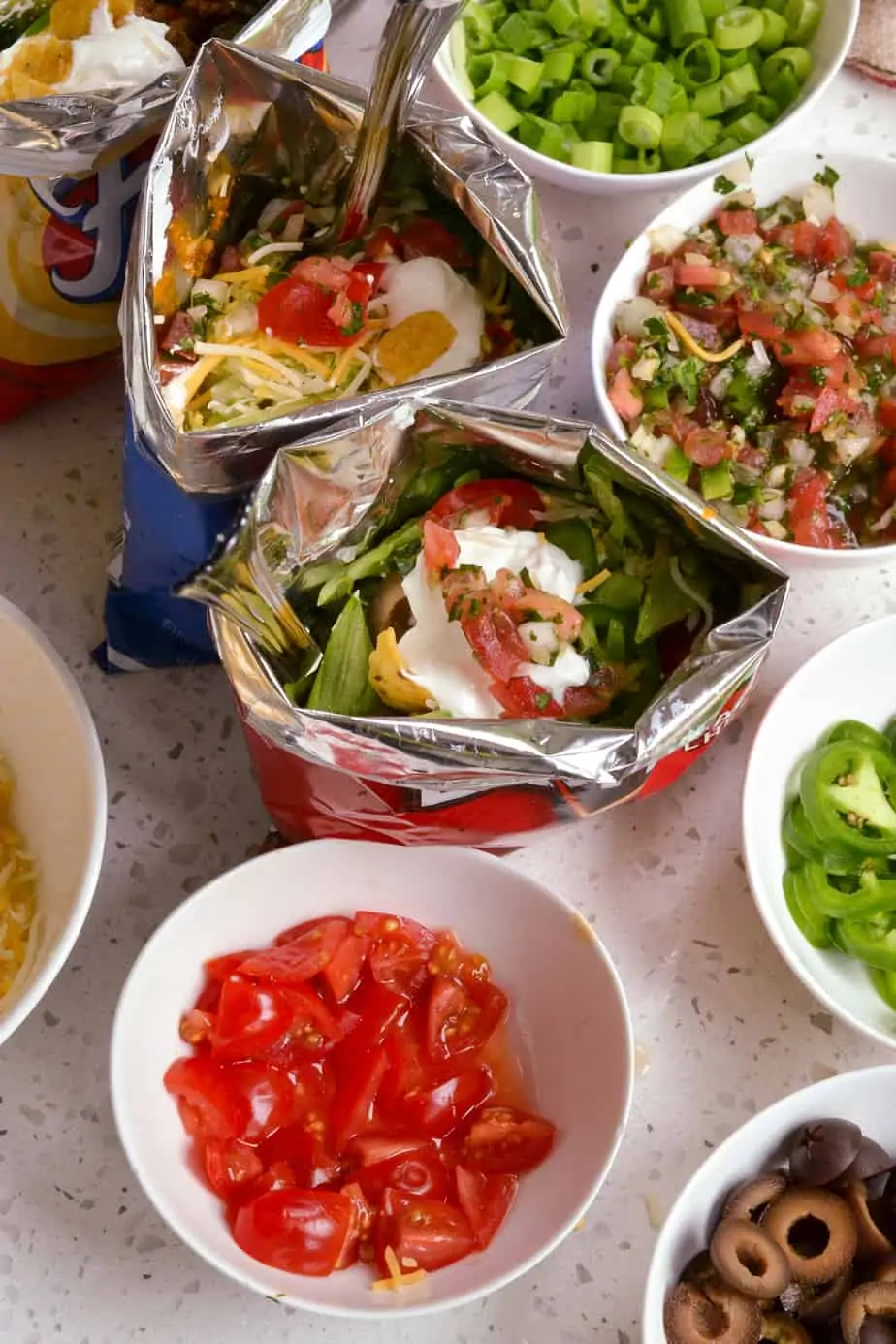 How to make walking tacos
Start by browning your ground beef and draining any excess fat. Then add the taco seasoning and water. Let it simmer for a little bit. Next cut and chop all the various toppings. Crush the bag of corn chips and add a little of the seasoned ground beef and your desired toppings. Add a spoon, fork or spork and you are ready to chow down.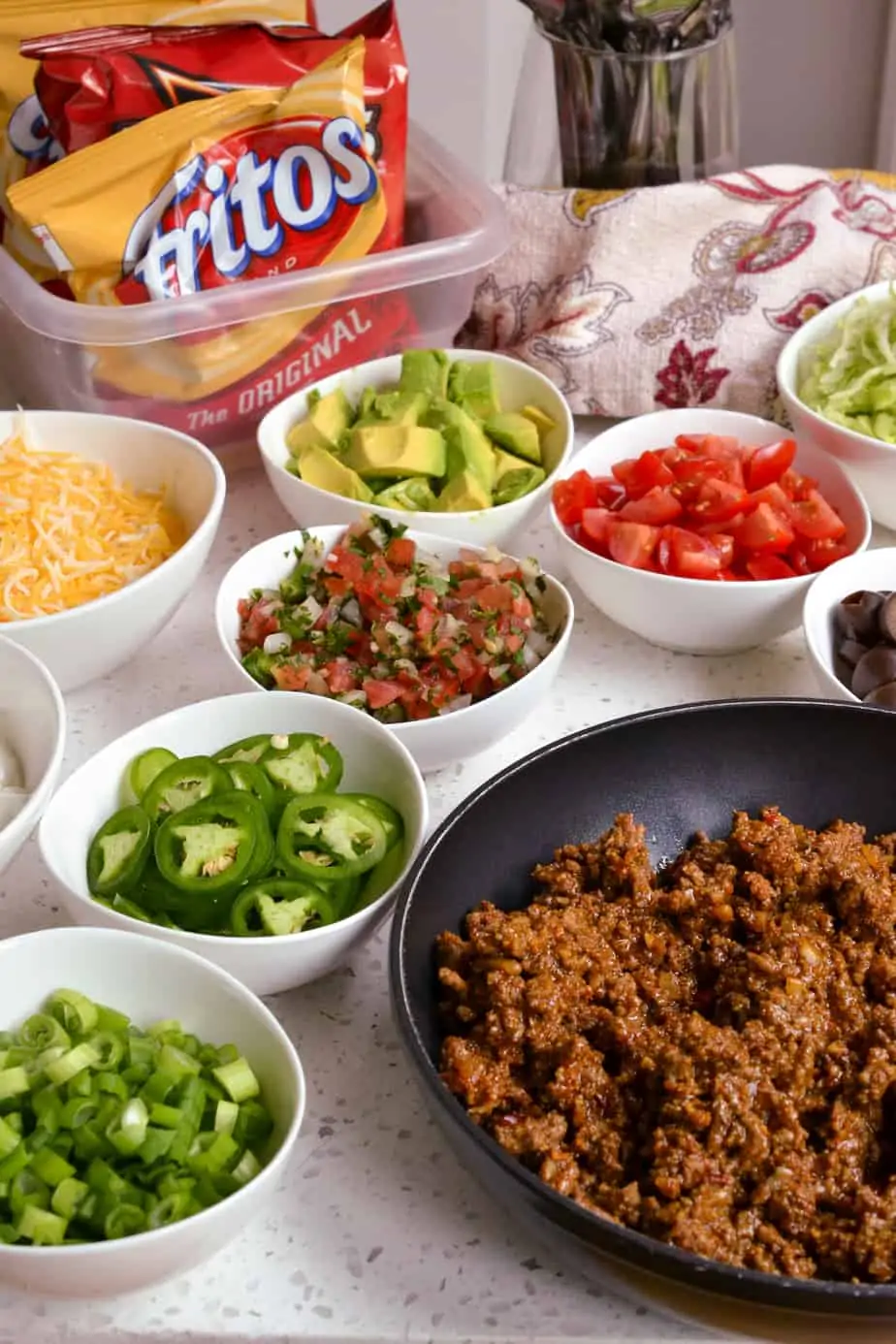 What toppings are best for a walking taco bar
Taco seasoned ground beef
Tomatoes
Green onions
Black olives
Jalapenos
Avocados
Lettuce
Black Olives
Sour cream
Salsa
Cheddar cheese
Monterey Jack cheese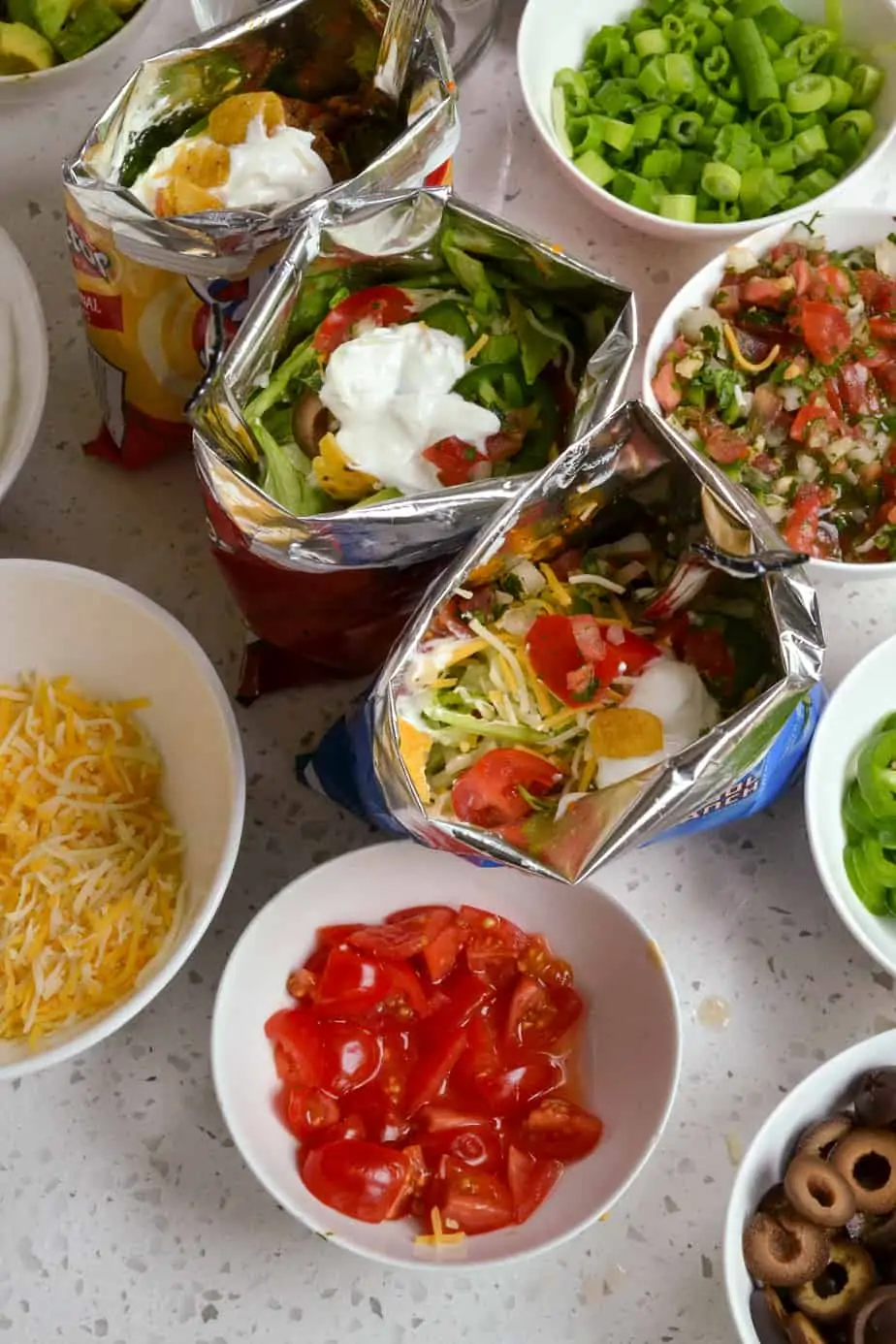 What chips to use
Fritos – either original or chili cheese
Doritos – any flavor
Tortilla chips – any flavor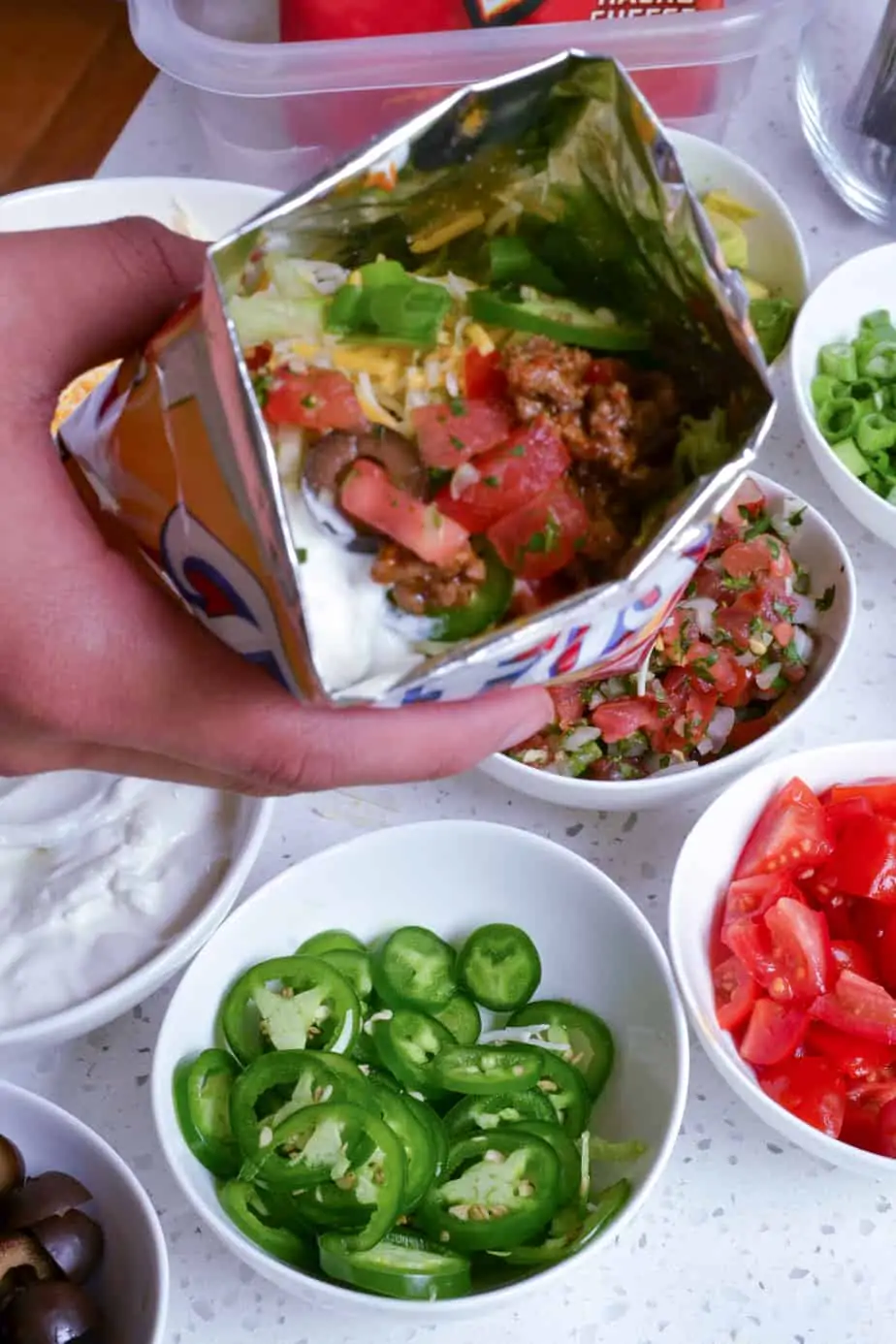 Recipe notes and helpful tips
The seasoned ground beef can be cooked up to 2 days in advance and stored in an airtight container in the fridge. Reheat in the microwave.
Ground turkey and ground pork work well with taco seasoning too.
Purchase the little 1 ounce bags of chips. They work perfectly and provide a healthy individual serving once all the goodies are added.
Serve with a fork, spoon, or better yet a spork.
These tacos are great for parties. You can set out all the toppings in small bowls with spoons and everyone can customize to their own taste.
Fold down the top of the chip bag about 3/4 inch. It helps to open up the bag and allow all the goodies to be added.
Store leftover taco mixture and leftover walking tacos in an airtight container in the refrigerator.
Other taco recipes you will love!
Print
Walking Tacos
Fun and easy Walking Tacos are perfect for parties, game day, movie night, and pool parties.  Simply set up the toppings and let your guests customize to suit their taste.
Author:
Prep Time: 10 minutes
Cook Time: 20 minutes
Total Time: 30 minutes
Yield: 8 tacos
Category: main course
Method: stovetop
Cuisine: American
1 pound ground beef
3 tablespoons taco seasoning
3/4 cup water
1 tomato diced
1 large jalapeno sliced in rings
1 cup Pico de Gallo
1 avocado diced
2–3 green onions thinly sliced
2/3 cup sliced black olives
1 cup shredded iceberg lettuce
1/2 cup shredded cheddar cheese
1/2 cup shredded Monterey Jack Cheese
1 cup sour cream
8 (1 ounce) bags assorted corn chips, Doritos nacho cheese chips, or Cool Ranch Doritos
Instructions
Brown the ground beef in a large skillet over medium heat breaking it up as it browns.  Drain any excess grease.  Add the taco seasoning and water.  Simmer for 10 minutes.
Place the toppings in small bowls with small spoons.
Break up the chips and add a couple tablespoons of the taco meat mixture and any assorted toppings.
Keywords: taco in a bag, Doritos walking taco, what is a walking taco, how to make walking tacos
On the hunt for more delicious recipes? Follow Small Town Woman on Facebook, Pinterest, and Instagram.
https://www.smalltownwoman.com/wp-content/uploads/2019/05/Beth-1.pdf