Be still my beating heart! There is nothing like a spicy breaded fried onion to jump start your positive attitude and tantalize your taste buds.  Throw in my delicious chipotle mayo teased with just a touch of yellow mustard and you won't be able to resist!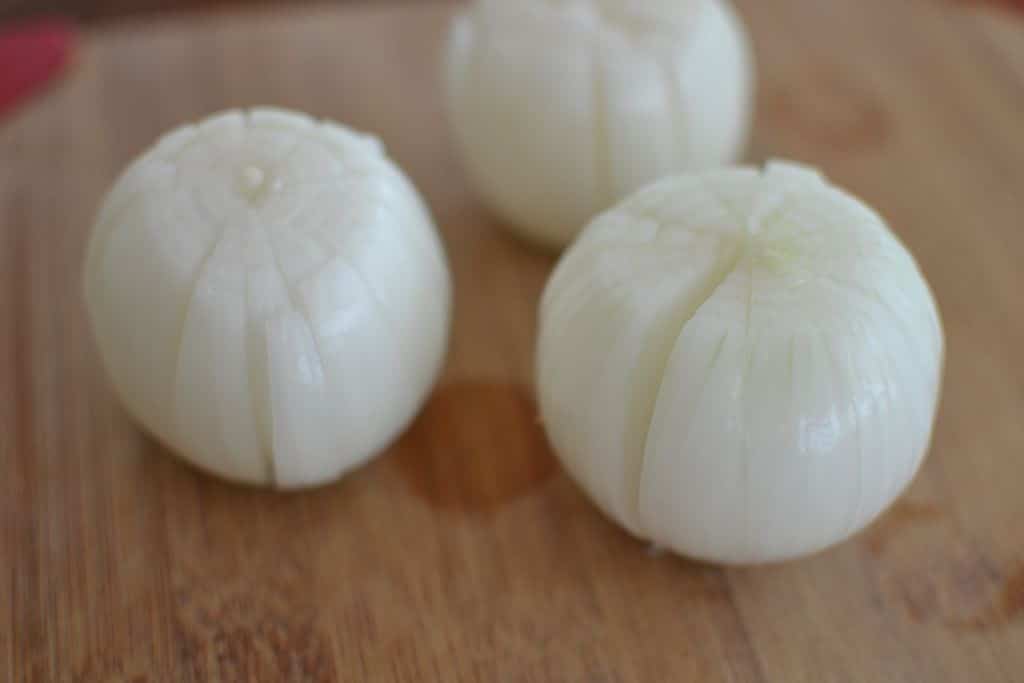 Now don't be intimidated by the cutting of the onion.   You are just cutting it into little pie shapes without going all the way through to the bottom but close enough to spread the onion out a little bit.  But when you spread the onion out go ever so gently.  Work it out!  If you cut too far save the onion for an omelette or something.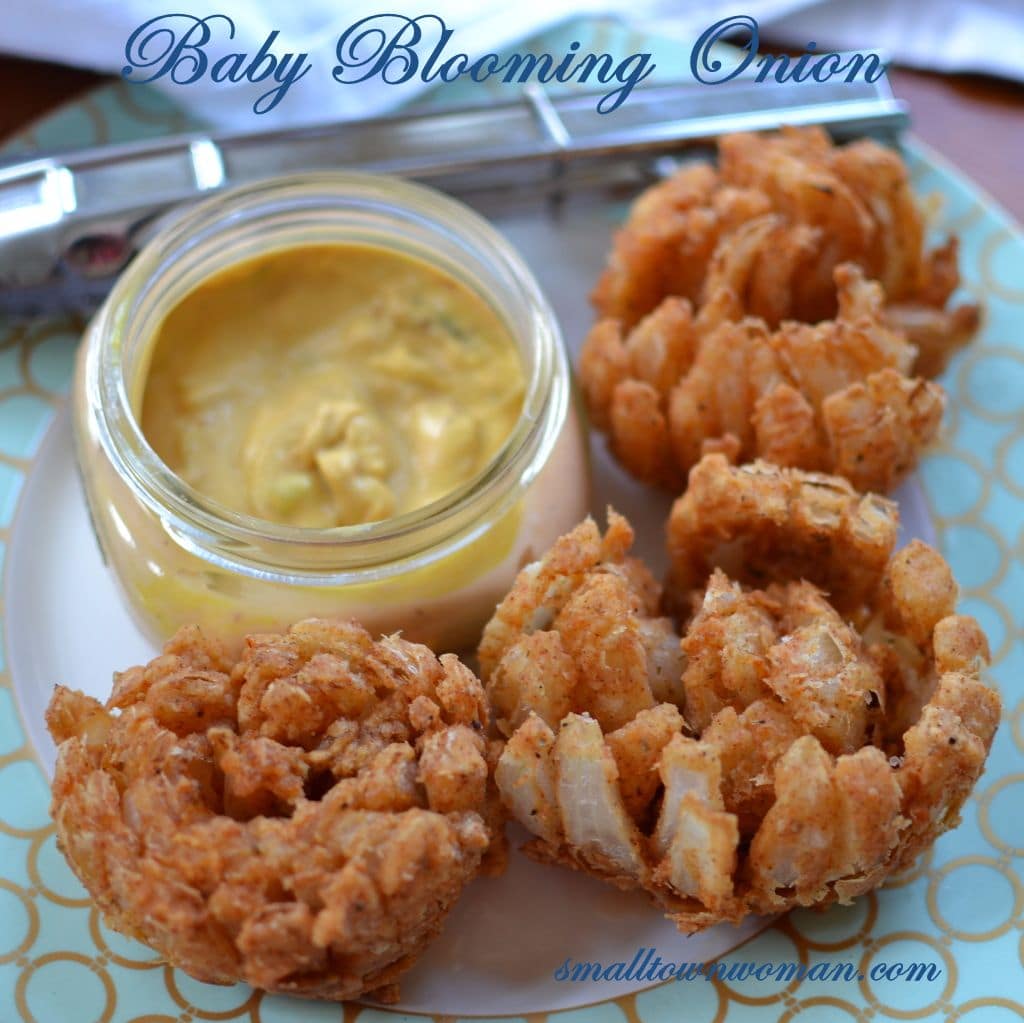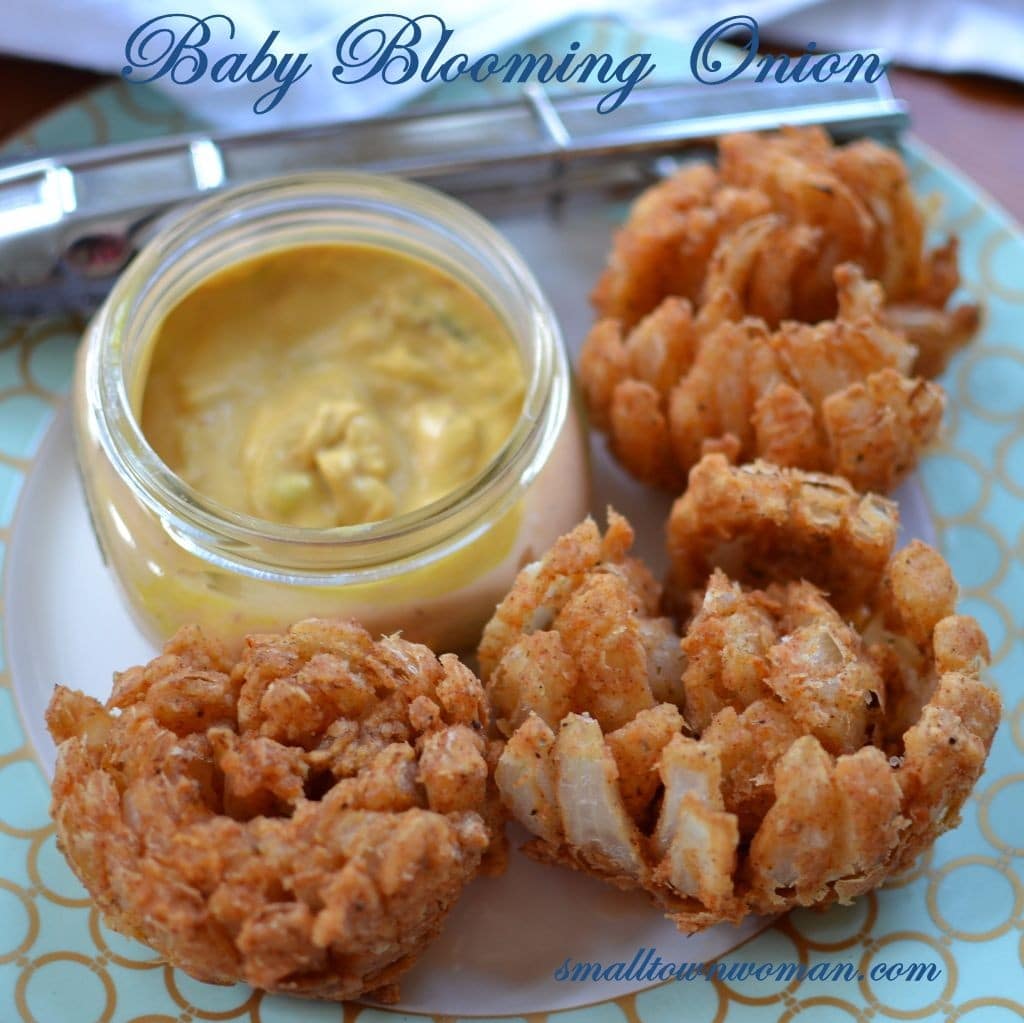 Print
Baby Blooming Onions
Scale
Ingredients
1/2 cup mayonaise
1 chipotle pepper in adobo sauce minced (more or less to taste)
1 tablespoons of the adobo sauce (more or less to taste)
1 small garlic clove finely minced
1 green onion chopped
1 tablespoon lime juice
2 teaspoons yellow mustard (the hotdog kind)
1 egg
1/2 cup milk
1 cup flour
1 1/2 teaspoons paprika
1 teaspoon salt
1 teaspoon cayenne pepper
1/2 teaspoon black pepper
1/2 teaspoon garlic powder
1 1/2 teaspoons oregano
1 1/2 teaspoons cumin
3–4 small onions
Vegetable Oil
Instructions
Combine mayonaisse, chipotle pepper, adobo sauce, minced garlic, green onion, lime juice and mustard in small bowl. Cover and place in refrigerator.
Whisk egg and milk in bowl deep enough to dunk the onion.
Mix flour, paprika, salt, cayenne pepper, black pepper, garlic powder, oregano and cumin in bowl deep enough to fit the onion.
Cut a small part of the onion of the top and the bottom creating a flat surface and peel any old skins off the onions. Cut onions in pie shape without cutting all the way through. Cut them in 12ths so they will spread out a little bit. Gently work to spread them out. Dip the onion in the egg mixture and then in the flour mixture. Back into the egg mixture and then back into the flour mixture, You will need to gently work the the mixtures into the petals of the onion. Refrigerate the onions for 15-30 minutes.
Heat oil in a heavy pan to 350 degrees. You will need just enough oil to cover the onion. Fry the onions right side up for 6-9 minutes. Stay close so they do not get too brown. Drain on paper towels.
Serve immediately with the chipotle mayo.
https://www.smalltownwoman.com/wp-content/uploads/2019/05/Beth-1.pdf